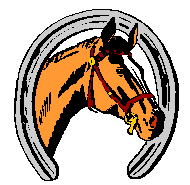 POLICE HORSE DESENSITIZING TRAINING
If you have a spooky trail horse or a gun-shy horse, the Mounted Police Training & Equipment Co. is making this special police horse training available to members of the general public.
This training is normally provided at Trelawn Plantation (near Tallahassee, Florida), but if you can get a group together, the training can be brought to your location. Please call for more details on the training, size of group required to bring training to you, cost and any other questions you might have.
This is a gentle, humane course designed to create reliable, responsible trail, athletic and show horses through an understanding of the horse's point of view.
Pelase call toll free

1-888-668-6860

or send E-mail

for further information.
---